MANAGEMENT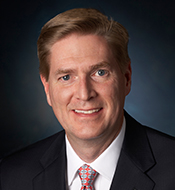 Miles ("Mick") Huffstutler is the Founder and Managing Director of Navicerne. He has over 20 years of experience in finance, strategy, mergers & acquisitions, corporate development and international business. As an investment banker and later as a corporate development executive, his experience includes a wide range of completed transactions across multiple industries, often working with strategic buyers, representing over $15 billion of value. Mick has specialized in identifying, structuring, negotiating and closing strategic alliances & partnerships, investments, joint ventures and M&A transactions, providing business advice to clients and senior management, and supporting integration post-closing. His background includes significant cross-border transaction experience in developed and emerging markets, particularly involving Japan and the Asia-Pacific region.
Prior to forming Navicerne, Mick served as an independent advisor on corporate development and strategy assignments, working closely with senior management and project teams at client companies to pursue domestic and international growth opportunities. Additionally, following the merger of AirTouch Communications, Inc. and Vodafone Group Plc, he assisted AirTouch's former Chairman and CEO in the establishment of a $250 million fund for private equity investments in the communications industry.
Previously, Mick served as Managing Director, Corporate Development at Vodafone Group and, prior to the merger, held the same position at AirTouch Communications in the dynamic and fast-growing wireless communications industry. In this role, he helped build AirTouch into an industry leader through a carefully planned, yet aggressively executed program of strategic alliances & partnerships, investments, joint ventures and acquisitions in domestic and international markets. He led AirTouch's expansion in Japan through a series of five transactions valued in excess of $4 billion (J-Phone), which ultimately secured one of only three national cellular businesses in Japan – the only non-Japanese company to do so. While at AirTouch, Mick was part of a management team that increased the equity value six-fold in five years (from $10 billion to $60 billion). AirTouch's merger with Vodafone created the world's largest mobile communications company.
Prior to joining AirTouch, Mick served as Vice President of Peers & Co., a private merchant banking firm that developed a leadership position in cross-border transactions involving Japan and the Asia-Pacific region. While at Peers, he originated and executed domestic and cross-border transactions for public and private companies in a variety of industries, including consumer products, manufacturing, real estate, retail, technology and transportation, completing 19 transactions representing over $2.5 billion in value.
Mick began his investment banking experience at PaineWebber Incorporated, working in the firm's corporate finance and M&A groups. Before business school, he worked at General Electric Company's Aircraft Engine Group in the Financial Management Program, an internationally recognized corporate finance and leadership development program led by GE executives and mentors.
Mick earned his Master of Business Administration from The Wharton School at the University of Pennsylvania, and Bachelor of Science in Business with distinction from the University of Minnesota. He also serves as a judge for the annual Wharton Business Plan Competition.